Welcome to your Secure Client Portal!
Unfortunately, the option to pay through the Portal is not currently active. PLEASE use the Make a Payment button to the right.
We apologize for the inconvenience.
Due to the wide variety of services available through NetClient CS, we've marked the services we currently are providing to you. We do not offer all of the services listed in the brochures, videos, or walkthroughs. We are taking our time to help navigate you, securely, into the new cutting edge technology of today's world of Tax Prep & Accounting! We may add more in the future.
Through our NetClient Portal, you can confidently upload and download sensitive files securely!
---
For Further instruction or Help & How-To videos, please check below as we are continually adding informative tools to assist with ease of use.
~ Click below for more info regarding ~
2020 Economic Impact Payments &
2020 Tax Form 1444 for Tax Returns!
Follow the link to see how to PAIR A MOBILE DEVICE to your Portal!
For an added layer of security, download the multifactor Thomson Reuters Authenticator App to your mobile device from Google Play Store or from the Apple App Store.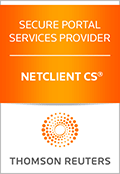 Download the NetClient CS Mobile App
from your Google Play Store or the Apple App Store now!
Download the Mobile CS on your phone or tablet to have access nearly anywhere!
---
Tip's/Tricks/How-To's
All communications between our firm and the user are encrypted using the Secure Socket Layer (SSL). This is the same functionality used by banks and popular e-commerce services for secure communication. We also store your files encrypted when they are at rest on our servers, adding an additional layer of security. To protect against data loss, our servers are equipped with technology that automatically mirrors all data in real-time to two separate locations. Regular incremental and full backups of all system data are performed, including off-site data backups stored in two separate secure physical locations, to protect against almost all disaster scenarios.